BIOGRAPHY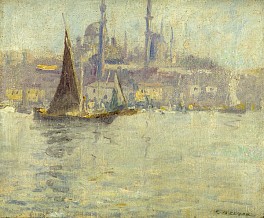 CALEB ARNOLD SLADE
(1882 - 1934)
Born in Acushnet, Massachusetts, C. Arnold Slade was active around Truro. He studied in New York with Frank Vincent DuMond and in Paris with Jean-Paul Laurens. The artist lived in Paris intermittently for several years.
Slade was associated with John Singer Sargent's circle, and he was among the famed artists, whose patron was Isabella Stewart Gardner. The Isabella Stewart Gardner Museum in Boston owns several of Slade's paintings, landscape and figurative works set in Venice, Etaples, and Tunisia. These works were either purchased by Mrs. Gardner or given to her by the artist.
Slade was also known as a portraitist, and he painted portraits of the Honorable Charles A. Dawes, John Singer Sargent, and Senator Borah, to mention a few.
Memberships
Art Club of Philadelphia
Paris Art Association
Allied Artists of London
Springfield (IL) Art Club
Philadelphia Sketch Club
Select Public Collections
Springfield (IL) Art Club
Art Club of Philadelphia
Attleboro (MA) Public Collection
Isabella Stewart Gardner Museum, Boston
New Bedford (MA) Public Library
Milwaukee Art Institute
Bethany Church, Philadelphia
Paramount Theater, New York, NY
John Wanamaker Collection and Elkins Collection, both in Philadelphia