BIOGRAPHY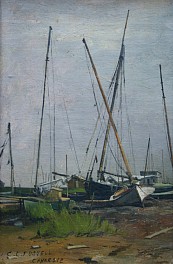 CHARLES LEWIS FUSSELL
(1840-1909)
Charles Lewis Fussell grew up in Philadelphia, where he enrolled at the Pennsylvania Academy of the Fine Arts in 1864. He may have received earlier training from the local history painter, Peter Frederick Rothermel (1812–1895), in whose studio he painted in 1863.
Fussell's lifelong friendship with Thomas Eakins (1844–1916) began when they were fellow students at the Academy and members of the Philadelphia Sketch Club. In the summer of 1882, Fussell visited the artist Thomas Moran (1837–1926) on Long Island, and in 1889 he settled in Brooklyn, where he worked for more than eight years.
After 1900 he lived a rather withdrawn life in Media, Pennsylvania, giving occasional lessons and exhibiting oils and watercolors at the Art Club of Philadelphia, the National Academy of Design in New York, and the Art Institute of Chicago. Between 1877 and 1908 the Pennsylvania Academy exhibited twenty four of Fussell's paintings. Today the Academy has ninety oils, watercolors, and drawings by him in its permanent collection.
Fussell's papers are in the Academy's archives and were the basis for the entry on the artist in "Philadelphia: Three Centuries of American Art" (Philadelphia: Philadelphia Museum of Art, 1976). Courtesy of Schwarz Gallery, Philadelphia