BIOGRAPHY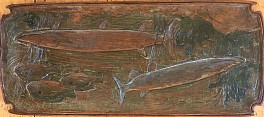 Elmer Livingston MacRae
American, 1875-1953
In Cos Cob, CT, permanently, 1896-1953
Elmer Livingston MacRae studied at the Art Students League with John Twachtman, Carroll Beckwith, Robert Blum, and H. Siddons Mowbray, and in the 1890s he was introduced to the Impressionist art colony at Holley House in Cos Cob, Connecticut, when he was a summer student of Twachtman's there. MacRae married Constant Holley, the daughter of the owner of Holley House, in 1900. He lived at the house for his entire career and succeeded Twachtman as head of the colony.
Best known for his paintings of the landscape in the vicinity of Cos Cob and his portraits, often of his wife and twin daughters, MacRae also worked in pastel, and he was one of the founders of the American Pastel Society. He was also active in other art organizations, including serving as a charter member of the Greenwich Society of Artists, and a founder of the Association of American Painters and Sculptors (AAPS), the organization that sponsored the 1913 Armory Show. MacRae exhibited ten works in this important international exhibition.
The artist exhibited in New York and Connecticut throughout his career, and a posthumous retrospective of his work was held at the Milch Gallery in New York City in 1959.
Memberships
New York Watercolor Club, New York, NY
Charter Member, Greenwich Society of Artists, Greenwich, CT
Founding Member, American Pastel Society, New York, NY
Founder, Association of American Painters and Sculptors (AAPS)
Select Public Collections
Whitney Museum of American Art, New York, NY
Parrish Art Museum, Southhampton, NY
Historical Society of the Town of Greenwich, Greenwich, CT