BIOGRAPHY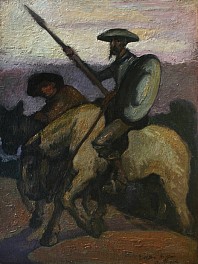 1874-1958
EUGENE HIGGINS
(1874-1958)
Eugene Higgins, a painter and etcher, represented with sentimentality the impact of the homeless, depressed and less fortunate people of society. His passionate sympathy for the poor led him to generalize situation and location, painting archetypal situations rather than observed ones.

Although a Social Realist in subject matter, his style was European, much influenced by Honore Daumier, and this Old World quality made his work less popular than that of others such as Robert Henri, who had a more unique style.

Higgins was born the son of an Irish stonecutter and builder in Kansas City, Missouri, 1874, and after the death of his mother, his father moved him as a youngster to Saint Louis, where he was raised. He briefly attended night classes at the St. Louis School of Fine Arts, and also went to work in an architect's office.

In 1897, he went to Paris and studied at the Ecole des Beaux-Arts and the Academie Julian, under Jean Paul Laurens, Benjamin Constant and Jean Leon Gerome. In France, he developed the skill of etching, which became his primary way of earning money.

In 1904, he returned to America, spending a year in St. Louis and then settling in New York City. In the early 1920s, he married Anita Rio, and for the remainder of his life, kept a studio on West 22nd Street. Anita and Eugene spent most of their summers at Old Lyme, Connecticut.

Recognition came for Higgins, both for his etching and for his painting, which for some viewers carried the suggestion of sculpture because of the vigor and overwhelming qualities of his figure painting. In 1904, the militant Journal of Social Satire in Art, devoted an entire issue to Higgins' s illustration titled Les Paurves. He was acclaimed by the poet Edward Markham as "the one powerful painter of the tragic lacks and losses." In 1921, Higgins was voted to membership in the National Academy of Design, and participated in every exhibition after that to 1950.

Higgins credited his father's influence as being very strong on his work because his father was a stonecutter, whom the young Higgins helped and observed the way he handled the materials. His father talked much about the skills of Michelangelo, and about this Higgins said: "As I remember those days it seems to me I knew Michelangeo as well as a I knew my father---we three were pals together. " he other major influence was Jean Millet from whom he "learned also the beauty of simple elemental conditions truthfully portrayed." (271)

During the Depression era Higgins created murals including for post offices in Beaver Falls, Pennsylvania; Shawano, Wisconsin; and Mount Pleasant Tennessee.

In 1958 Eugene Higgins died in a hospital in New York after a long illness.


Source:
Ruth Pasquine, Paintings and Sculpture in the Collection of the National Academy of Design, Volume One, 1826-1925, David Dearinger, Editor.