BIOGRAPHY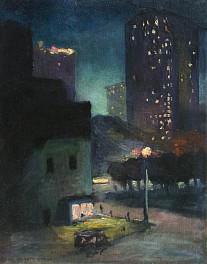 EVERETT LONGLEY WARNER
(1877-1963)
Born in Vinton, Iowa, Everett Longley Warner had his first art training in Washington D.C. at the Corcoran Museum Art School and the Washington Art Students League. In 1900, he moved to New York City and continued his education at the Art Students League, and in 1903 he attended Paris's Academie Julian. Although he is best known for his New York and Old Lyme Impressionist subjects, toward the end of his career, Warner made contributions as an American Scene painter.
Warner's long career can be divided into five periods. The artist's first period coincides with his early years in New York and his travels in Europe. During this time, Warner's work shows a fascination with the architecture of the great cities he visited. From 1909 to 1917, Warner's Old Lyme period, he became affiliated with the art colony there, and his Impressionist style was born. His landscapes from these years are depictions of this rural Connecticut setting, often in the winter. In 1918, the beginning of the next period in the artist's career and coinciding with the onset of World War I, Warner was appointed a Commissioned Lieutenant in the U.S. Naval Reserves in charge of camouflage design. When the war was over, he produced a series of aerial paintings of New York City, the first of their kind, and he continued to paint New York Impressionist cityscapes. In 1924, Warner took a teaching post at the Carnegie Institute in Pittsburgh, a position he held for twenty years. In Pittsburgh, Warner became a proponent of Regional painting, which called for the portrayal of American subject matter, and he began to paint Pittsburgh's industrial scene. At the end of his career, he painted in Westmoreland, New Hampshire.
Throughout Warner's lifetime, he was an active participant in the art scenes of New York, Connecticut, Washington D.C., and Pittsburgh, and he was honored with several one-man shows.
Memberships
American Art Association of Paris, Paris, France
Associated Artists of Pittsburgh, Pittsburgh, Pennsylvania
Lyme Art Association, Old Lyme, Connecticut
National Academy of Design, New York, New York
Salmagundi Club, New York, New York
Awards and Honors
Sesnan Gold Medal (Pennsylvania Academy of the Fine Arts, 1908)
Second Hallgarten Prize (National Academy of Design, 1912)
Silver Medal for Painting (Panama-Pacific International Exposition, 1915)
Honorable Mention (Art Institute of Chicago, 1919)
The Henry Ward Ranger Purchase Prize (National Academy of Design, 1923)
Altman Prize (National Academy of Design, 1936)
Select Public Collections
Art Institute of Chicago, Chicago, Illinois
Corcoran Gallery of Art, Washington, D.C.
Florence Griswold Museum, Old Lyme, Connecticut
National Museum of American Art, Smithsonian Institution, Washington, D.C.
New-York Historical Society, New York, New York
Pennsylvania Academy of the Fine Arts, Philadelphia, Pennsylvania