BIOGRAPHY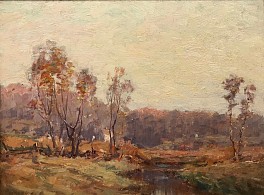 FRANK A. BICKNELL
(1866-1943)
Frank Bicknell has traditionally held the honor of having the shortest biography among all the Old Lyme Art Colony artists. No photograph was thought to exist; no one could identify the source of his rumored personal wealth. His output, his American Barbizon landscapes, his Impressionist forest floors dotted with mountain laurel, his highly-keyed views of the Monhegan coast pounded smooth by the ocean – served as bits of visual biography in place of textual evidence.
In 2002, Mrs. Elizabeth Magee Cloutier, through great personal effort, self-published a work of amateur biography that relies heavily on Bicknell's lost scrapbook, located with the descendants of Charles Graham Gibbs, Bicknell's partner and closest friend. The scrapbook is a remarkable construct of personal history, more a commonplace book than anything, and completes Bicknell's biographical portrait.
Bicknell was born in Augusta, Maine on February 17th, 1866. His father, James Austin Bicknell, a prominent member of the Augusta community and successful entrepreneur, served in the state legislature and was appointed postmaster of Augusta in 1861 by President Lincoln. James Bicknell was a connected man. James G. Blaine (1830-1893), the influential United States Senator, Secretary of State in two administrations, and eventual (albeit failed) presidential candidate, accepted the elder Bicknell's invitation to become Frank's godfather. Blaine owed a great deal of his political success to James Bicknell's financial support, especially his assistance in helping Blaine purchase a share of the Kennebec Journal, which provided Blaine with an influential pulpit.
Frank Bicknell, the youngest son of a prosperous and established family, enjoyed the freedom to pursue an inherent interest in art. His second cousin, the artist Albion H. Bicknell (1837-1915) was a resident of Malden, Massachusetts and when Frank Bicknell's family relocated to present-day Brockton in 1870, Frank found himself with a mentor who would direct and encourage the first phase of his artistic career. Albion Bicknell associated with William Morris Hunt (1824-1879), Elihu Vedder (1835-1923), Joseph Cole (1837-1892), and John La Farge (1835-1910). When James Bicknell died in 1881, Albion offered Frank a home, studio space, and access to a coterie of men who had all achieved fame with the brush.
Bicknell parlayed some small success doing scenes for the Brockton Illustrated and illustrations for New England Magazine, into summers at Annisquam, painting alongside William Picknell (1853-1897), Robert Vonnoh (1858-1933), and Hugh Bolton Jones (1848-1927). Within a decade, Bicknell moved to New York, where in 1889 he exhibited in a gallery show alongside William Merritt Chase (1849-1916). For all his new-found glory, New York remained a temporary stop. In 1890, it was on to Paris.
Bicknell enrolled in the Academie Julian and studied with William Adolphe Bougereau, Robert Tony-Fleury, Gabriel Ferrier, and Alfred Bramtot. In the springtime, Bicknell visited Fontainebleau and it was there that he began to establish a Barbizon-inspired style of landscape that he would later apply to his Old Lyme paintings. In 1892, his painting, The Old Apple Orchard was accepted into the Paris Salon and received wide acclaim back in the United States. His professional career began in earnest.
In 1894, Bicknell occupied a full-floor studio in Stanford White's infamous Tower attached to Madison Square Garden. His choice of residence placed him among New York's aesthetic elite and he enjoyed a steady social schedule. By the time of his 1895 trip to California and Japan, paintings by Bicknell could be found in the National Academy of Design, the Boston Arts Club, and the Philadelphia Academy.
Bicknell first visited Old Lyme in 1902, but it was not until 1908 that his name was regularly associated with the Old Lyme Art Colony. After ten years dividing his time between Boston and New York, the ever-mobile Bicknell gradually immersed himself in both the social and artistic worlds of Old Lyme. He was devoted to Florence Griswold (who allegedly was romantically fond of him), referred to other members of the colony as his "family," and established a relationship with the artist Louis Cohen, who upon his death willed his home on Sill Lane to Bicknell. As a testament to his significant reputation, Bicknell was invited to paint one of the panels in Miss Florence's celebrated dining room. He chose for his subject, appropriately enough, mountain laurel.
Between 1910 and 1920, Bicknell fully occupied his role as a leading member of the American art community. He was named an associate of the National Academy and was an influential member of the Salmagundi, Lotos, and National Arts clubs. While in New York, Bicknell regularly entertained other artists, including Carleton Wiggins, Gifford Beal, and Leonard Ochtmann, and his exhibition schedule greatly increased. At the heightof his power, Bicknell was among the most significant and widely-known landscape painters in the country.
From 1919 to 1925, Bicknell served as an associate professor at the Carnegie Institute of Technology, now Carnegie Mellon University. While in Pittsburgh he enjoyed a close relationship with Charles Graham Gibbs, the only subject known to have sat for a portrait by Bicknell. The artist eventually returned to Old Lyme where he stayed in the Cohen house until too infirm to live on his own. He moved to a retirement home in nearby Essex, where he died in 1943.