BIOGRAPHY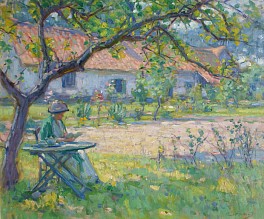 1869-1937
FRANK TOWNSEND HUTCHENS
(1869-1937)
Frank Townsend Hutchens was born in Canandaigua, N.Y. on June 7, 1869. Canandaigua is a picturesque in town at the northern end of Seneca Lake. His parents were Hiram and Mary Abigail Hutchens. Frank Hutchens was one of five children. His siblings were William Conger, Henry, Clara Abigail and Floyd Grant.

Hutchens' formative years were spent at the family home on 201 Chapin Street.

Even as a 12 year-old, Hutchens was inspired by art, at first by Sara A. Saunders, a local artist. Saunders must have made an impression on young Hutchens for he referred to her more than 50 years later in a letter dated Feb. 2, 1937 as "a dear old soul and very courageous." Hutchens died four days later.

Another person who made an impression on Hutchens was Lucy B. Stowe. Stowe was one of his instructors at the Canandaigua Academy, where he enrolled as a student. Stowe was influential in developing Hutchens' skills with pen and ink, watercolors, crayon and India inks, and in encouraging him to exhibit his art at local county fair exhibitions.

Hutchens enjoyed sharing what he created, especially with his family. As a wedding gift to his older brother William, Frank presented a prized original 6 x 10 sketch pad dated June 26, 1887. It was labeled Brushton, NY, Will's bride's hometown. Frank Hutchens was 18 years old at the time. On this parchment-like pad, he had sketched several views of country scenes, including a house surrounded by a small rail fence, a lane, and a very rustic wooden bridge over a small stream or canal.

During the next four years, Hutchens continued to work on his artistic skills, taking instruction from Alexander Van Laer, an accomplished landscape artist from Auburn, N.Y., as well as a distinguished lecturer on art at The School of American Artists. With Van Laer's encouragement, it became clear to Hutchens that if he was to fully blossom as a painter he needed to go to Europe and study the Masters.

His first trip was to Paris in June 1891. He carried a passport indicating he would stay only until October 1 with his occupation listed as "artist." It would be the first of many trips over the next 22 years to numerous locales in Europe and North Africa.

After four short months he returned to Canandaigua. Hutchens' experience and exposure deepened his commitment to his craft. An excited Hutchens opened a studio in 1892 in the Foster Block on Main Street in his hometown, where he exhibited his paintings along with the work of his contemporaries, the Crandalls. Windows of local bookstores, such as McKechnies, also provided space to display their paintings. Hutchens proved a budding entrepreneur, selling his paintings and providing catalogues of his work for what became a successful marketing idea for his other work.

Success came early for Hutchens. In 1893, at the age of 24, he was commissioned to do illustrations for a special edition of Lew Wallace's Ben Hur.

As Hutchens' art and career began to evolve, so did his signature. Signatures are an artist's signal at the end of the artistic process. Many times they are just an illegible scrawl. Hutchens, however, made his name distinctively legible. The signature has a feature of a bold, sweeping downward stroke of the final "s." A final artistic flourish.

Like many artists, Hutchens mastered an academic approach by using different mediums and brush strokes before finding his own painting style.

Hutchens desire to grow as an artist drew him to study and paint with the best. In 1893, following exhibitions in Canandaigua, he studied at the Art Students League in New York City under the instruction of Irving Ramsey Wiles, Frank Vincent DuMond, Siddons Mowbray, William Merritt Chase, George deForest Brush and Augustus Saint-Gaudens, the renowned sculptor.

During his affiliation with the Art Students League, his address was registered as 25th W. 60th St. Probably a modest apartment for a fledgling 24-year-old artist. Thirty-five years later and financially independent, the Art Students League noted his address as 48 Barrow St., a three-story building he had owned and later sold.

Hutchens was a serious artist who shuttled between America and Europe to hone his skills to evolve from an academic artist into one with heavy Impressionist tones. Along the way he created a market for his work and a name and style for himself as not only an artist, but also as an entrepreneur with a growing interest in real estate.

Emerging as an artist in his own right helped him find success in having his work accepted for exhibitions. He aggressively pursued showings, mostly in Upstate New York and later in his career at commercial galleries and institutions nationally. Interest in his work continues today as auction houses and galleries still sell his paintings.

MUSEUMS AND GALLERIES WHERE HUTCHENS EXHIBITED

Butler Institute of American Art - Youngstown, Ohio
Corcoran Gallery - Washington, DC
National Gallery of Art - Washington, DC
Delgado Museum of Art - New Orleans, La.
New Orleans Museum of Art
Erie Art Museum - Erie, Pa.
Erie Library - Erie, Pa.
Florida Historic Capitol Museum - Tallahassee
Goodwood Plantation - Tallahassee, Fl.
High Museum of Art - Atlanta, Ga.
Memorial Art Gallery - Rochester, N.Y.
University of Rochester
Milwaukee Museum of Art - Milwaukee, Wi.
Museum of Fine Arts - Syracuse, N.Y.
Everson Museum of Art
New Hampshire Capitol - Concord, NH
New York Capitol - Albany, N.Y.
Ontario County Historical Society - Canandaigua, N.Y.
Pasadena Art Museum - Pasadena, Calif.
Schenectady Museum - Schenectady, N.Y.
Siouxland Heritage Museums - Sioux Falls, S.D.
Siouxland Libraries - Sioux Falls, S.D.
Society of the Four Arts - Palm Beach, Fl.
Toledo Museum of Art - Toledo, Ohio
The John Herron Art Institute - Indianapolis, In.
Indianapolis Museum of Art
Washington County Museum of Fine Arts - Hagerstown, MD
West Point Museum - West Point, N.Y.
Woodstock Artists Association - Woodstock, N.Y.


ACADEMIES WHERE EXHIBITED
American Watercolor Society
Art Institute of Chicago
Art Students League of New York
Carnegie Institute - Pittsburgh
International Gallery - Amsterdam, Holland
National Academy of Design - N.Y.
Pennsylvania Academy of Fine Arts - Philadelphia
The Royal Academy - London
The Salon - Paris
The Society of American Artists - N.Y.
The Society of Independent Artists - N.Y


Written by Tim Atseff, Editor, An Artist's Life, Frank Townsend Hutchens as submitted to AskArt.