BIOGRAPHY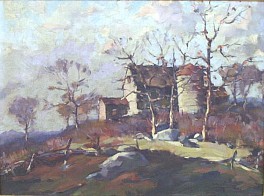 GERSHON CAMASSAR
(1908-1995)
(The following biography is based on information provided by Todd Camassar, the grandson of Gershon Camassar.)

Gershon Camassar was essentially a self-taught artist, but received much support and helpful criticism from Robert Brackman, who was famous for his Rockefeller-family portraits, and Lars Thorsen of Noank, CT.

Gershon, nicknamed Gersh, was born on a farm in Columbia, Connecticut in 1908, the son of Russian immigrants. He was fascinated with all of the different tasks involved in operating a farm, particularly during the winter months, and this interest in variety and challenge directly carried over to his art. He showed an interest in art while in school, and began painting at age 17, but he painted only as a hobby because he owned and operated Brater's Art and Frame Shop in downtown New London, Connecticut with his brother Abe for over forty years.

He mainly painted in the southeastern Connecticut towns, but also made trips to the Londonderry section of Vermont to sketch and paint during the autumn months. He exhibited at the Lyme Art Association and was a top-selling artist at that gallery for many years. He died in 1995 after a long illness.

A second generation member of the Old Lyme, Connecticut Art Colony, Gershon Camassar was known for his scenes of simple farm homes in landscapes. He exhibited in Old Lyme with the Art Association from 1957 to 1994.

He was a native of southeastern Connecticut, and became both an excellent painter and story teller, known for his tales of the artists he had met in the Colony. He talked for hours about the various personalities including William Chadwick, Will Howe Foote, and Harry Hoffman.

He worked primarily in oils but also did numerous pastels.