BIOGRAPHY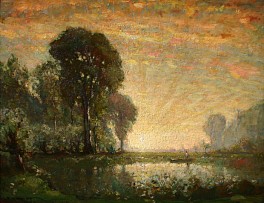 HENRY WARD RANGER
(1858–1916)
Henry Ward Ranger was the genesis for the establishment of the art colony in Old Lyme, Connecticut in the late 1890s. History claims him as the leader of the American Tonalist movement and an influential talent in 19th and early 20th century American painting.
Ranger was raised in Genesee, New York. At the age of 15, he enrolled in the College of Fine Arts at Syracuse University, where his father was a professor of photography and drawing. Two short years later, he became a retoucher in his father's studio. Ranger's successes precluded a college degree. During the 1880s, Ranger focused primarily on watercolors including Canadian and Marine subjects exhibiting them in New York City, Boston, and Paris.
With these successes as encouragement, Ranger went abroad to study in France. There he became intrigued with the Barbizon painters. Eventually he would encounter a colony of Dutch painters called "The Hague," whose Tonalist style suited him more than the Barbizon School's rural subjects and plein air approach.
In the 1890s, Ranger was painting oils almost exclusively. In 1892, he had a one-man exhibition at the Knoedler Galleries in New York City. It was an exhibition of forest interiors and tree studies. In the summer of 1899, he discovered Florence Griswold's boardinghouse in Old Lyme reminiscent of his days in France. He returned to Lyme frequently encouraging artists from New York to experience the area. With Miss Florence's friendship and encouragement Ranger became the unofficial leader of the growing artists' colony there. He also maintained a studio in New York City where his enthusiastic, larger-than-life persona and reputation as an artist made him a prominent figure. He often lectured and wrote about art in addition to his active painting career.
Ranger was a committed Tonalist, using a relatively somber palette. A style comprised of subtleties which would become a challenge for future restorers of his paintings. He did his sketches en plein air but finished his paintings in his studio and often exhibited his sketches and paintings together.
The honeymoon with Old Lyme came to an end with the arrival of Childe Hassam in 1903 and the growing influence of his Impressionist style. In protest of this newer, plein-air method, with its lightened palette and quick application of paint, Ranger picked up and moved up the coast to Noank, Connecticut near the mouth of the Mystic River.
When he died in 1916, he was a childless widower and left his estate to the National Academy of Design to establish the Ranger Fund, whose income was to purchase the works of living American artists beyond the age of forty-five.