BIOGRAPHY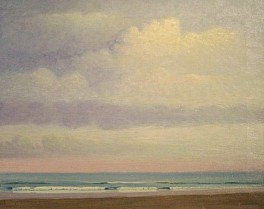 HERMAN DUDLEY MURPHY
(1867 – 1945)
A major figure in the Boston School style of painting, Herman Murphy did a variety of subject matter beginning with portraits and figure studies and later painting still lifes, seascapes and landscapes. He was especially noted for his floral still lifes, a subject he turned to in the 1920s, later in his career, and depicted with Impressionist style, classical format, sculptural appearance of featured subject, and decorative background patterning. Many of these still lifes had images of exquisite Chinese porcelains, bronzes, rugs, and antiques.

Murphy was born in Marlboro, Massachusetts and became a student of Edmund Tarbell and Frank Benson at the Boston Museum School. In 1891, he traveled to Paris and enrolled at the Academy Julian as a student of Jean Paul Laurens. He was the most influenced by James Whistler, whom he met in Europe. He worked from his Boston studio, "Carrig Roahne," and also taught at Harvard University. He became a leading frame maker as well as fine art painter. From Whistler, he had learned the importance of good framing. A special interest of Murphy was canoeing.

A traveler, Murphy went to the tropics and loved the sun-ridden environment, which much influenced his landscape painting.

He was an exhibitor in the 1913 Armory Show in New York and Boston, but by 1928 had given up modernism all-together. The "Boston Sunday Post," 2/19/28 carried the following quote by him: "These Modernist painters say that they paint not what they see, but what they feel--well, Heaven help them if they feel like what they paint!"
-AskArt.com