BIOGRAPHY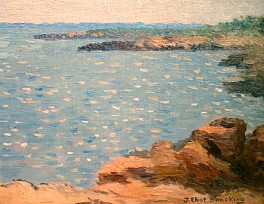 1881-1942
JOSEPH ELIOT ENNEKING
(1881-1942)
Impressionist landscape painter Joseph Eliot Enneking (1881-1942) was born in Hyde Park, Massachusetts, the son of John Joseph Enneking (1841-1916), also an Impressionist landscapist.

He studied at the Cowles Art School, the Art Students League in New York, and the Boston Museum School with Joseph De Camp (1858-1923), Frank Weston Benson (1862-1951) and Edmond Charles Tarbell (1862-1938). Enneking then opened a studio in Brookline, Massachusetts, not far from Boston, painting around Mill Pond, a quiet wildlife refuge. A prolific painter, he is best known for his masterful ability to capture the spirit of bustling beach scenes, quiet paths through woods, and the light at sunset in along the New England coast.

He was a member and exhibited at the Copley Society of Boston, the Salmagundi Club of New York, the North Shore Art Association, the New Haven Paint and Clay Club, and the Rockport Art Association. Enneking also exhibited at the Pennsylvania Academy of the Fine Arts in Philadelphia.


--AskArt.com