BIOGRAPHY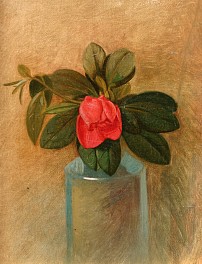 1826-1877
JAMES MORGAN LEWIN
(1826-1877)
Lewin was born in Swansea, Massachusetts in 1836. He began his career as an engraving apprentice at the Gorham Company in Providence, Rhode Island. At the close of his apprenticeship, he learned to paint photographs and was engaged by Manchester & Chapin, prominent photographers of their time. Lewin later turned his talents to landscape and still life painting. From 1858 until his death in 1877, Lewin was active among the artistic milieu in Providence, Rhode Island and Boston. He taught in Providence at the Charles Field Street Family and Day School, and was a member of the Providence Art Club. In Boston, he exhibited at the Boston Athenaeum and was a member of the Boston Art Club.
In 1860, the White Mountain painter Benjamin Champney, who worked alongside James Morgan Lewin during summers in New Hampshire, wrote: "I found he had great imaginative faculties and delicate, deft execution. He went to Boston, took a studio and painted landscape and still life with rare skill and ease." (1)He died at the age of forty-one.
Benjamin Champney, Sixty Years' Memories of Art and Artists (New York, 1977; reprint of 1900 edition, Woburn, Massachusetts).