BIOGRAPHY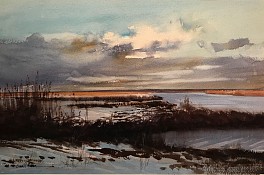 JERRY CARON
Jerry Caron graduated, in 1963, from the Vesper George School of Art in Boston. In 1976 he decided to pursue a full time fine art career after working in publishing. He has studied privately with Harvey Dinnerstein, Aaron Shikler, Burt Silverman, and Morton Kaisch at the Art Students League in New York.
Mr. Caron was a member of the faculty of the Lyme Academy of Fine Arts for seventeen years where he taught Drawing, Perspective, Composition and Design, Color Theory, and Landscape painting in Watercolor and Oil. His work has been featured on the cover of Yankee magazine and his illustrations have appeared in Backpacker magazine, and a children's encyclopedia published by McGraw-Hill.
In the 1980's Mr. Caron created and appeared in a series of 26 television programs produced by Storer Cable of Connecticut. The programs were Watercolor landscape demonstrations. For four years Mr. Caron taught on site painting workshops in Booth Bay Harbor, Maine, and has taught and lectured throughout New England.
Mr. Caron is a member of the Salmagundi Club, NY, the New England Watercolor Society, MA, the Providence Watercolor Society, RI, The Copley Society, Boston, MA, and The Hudson Valley Art Association, NY.