BIOGRAPHY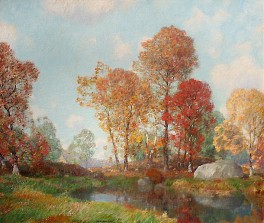 LAWRENCE MAZZANOVICH
(1871-1959)
One of a group of landscape painters who emerged from Chicago at the turn of the century, Lawrence Mazzanovich was born to immigrant parents at sea off the coast of California. Young Mazzanovich worked as a sign painter to provide for the family after his father died. The family moved to the Chicago, where Mazzanovich attended classes at the Art Institute. He then continued at the Art Students League in New York.
Shortly after his marriage in 1902, he and his wife traveled to France, where they would live for the next seven years. Following in the footsteps of aspiring young American artists, Mazzanovich studied in Paris and Giverny. He visited the major museums, spent time at the art colonies in Fountainbleau, Moret-sur-Loing and Giverny, and painted views of the European countryside.
Upon return to America in 1909, the Mazzanoviches moved to Westport, Connecticut, where a small art colony had formed. His work prior to 1909 was more subdued and tonalist; whereas, during the height of his career he began painting in a unique decorative style for which he is best known today, an aesthetic that combined elements of tonalism with a brightly colored impressionist palette.
In 1911, W. Scott Thurber Gallery in Chicago announced an exhibition of works by Mazzanovich. A third exhibition was held in 1912. Mazzanovich taught at the Holme School of Illustration in Chicago, along with school owner John Francis Holme, J.C. Leyendecker, Edgar Spier Cameron and Frederick J. Mulhaupt. ("Art", 'Chicago Times-Herald', 6/4/1899)
Mazzanovich also did design work and illumination for the Roycroft Press in East Aurora, NY. ("Art," 'Sunday Chicago Tribune', 7/1/1899, p.37). His success continued with an exhibition at Macbeth Gallery in New York in 1913. Thurber's Gallery had another exhibition of Mazzanovich's work in 1915 and later in 1916 at the O'Brien Gallery in Chicago. Mazzanovich was a member of and exhibited with the Salmagundi Club, the National Arts Club, and the American Federation of Arts. He participated in the 1915 Words Fair, and the Paris Beaux Arts Exhibitions of 1900 and 1906. His work is currently held in many public and private collections, including the Hackley Museum Art and the Art Institute of Chicago.
In the early 1920s, the Mazanovich's marriage disintegrated and the artist spent the remainder of his days in Tryon, North Carolina. This move, away from the art centers, was stylistically less constricting and contributed to the Mazzanovich's shift to Post-Impressionist explorations in color and abstraction. He died in Tryon in 1959.