BIOGRAPHY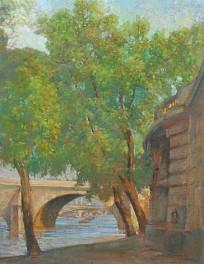 LOUIS ORR
(1879-1961)
Following is an article from an anonymous source who has an etching by Louis Orr, likely Notre Dame Cathedral, that was in the family from N. Ross Parke, a well known artist in the Hartford, Connecticut area:

Article in "The Hartford Times" Sat, March 5, 1966; page 7. (Hartford CT)
Titled: Friends Honor Memory of Orr, Recall Etcher's Hartford Youth
Author: Florence Berkman).

"Don't spoil a good printer and make a poor printer. This was the advice
given by a father (an art collector) to his daughter who had asked him to
give a young artist she had just discovered a grant for study. 'But he has
extraordinary talent.' She told her father. The young man was an apprentice
printer at Plimptons.

The father was the late James G. Batterson, one of the founders of the
Travelers Insurance Co.: The daughter was Mary Batterson Beech (wife of
Charles C. Beech): the year was 1906, and the artist was Louis Orr, who died
last week.

The story of the young printer's success as a world renowned etcher and
artist is well known. Phillip Kappel, a Hartford born artist, and himself a
noted etcher, said of Orr, 'he was one of the great masters. He was tops, a
real master of architectural subjects, especially.

His greatness lay in the extreme detail he worked into his etchings which did
not overrun the story. He had a fluid, flowing line, and his work had
vitality,' said Kappel, now a resident of New Milford, CT. Whose work will
go on exhibition at the end of this month at the Boston Art Center, Trinity
College.

Mr. Orr was my inspiration when I was a child. I used to see his works in
the window of the Moyer Gallery, then on Trumbull Street (in Hartford CT).

A son and a daughter of Dr. and Mrs. Beech, J. Watson Beech and Mrs. George
Capon (nee Elizabeth Beach), reminisce recently on the lifelong relationship
with Louis Orr and their family. Beach said there was no doubt in his mind,
that if his mother had not "discovered" Louis Orr, Louis would have spent his
life as a printer and illustrator.

Recalling his first encounter with Mrs Beach, Orr, writing in 1925, said he
had found himself becoming interested in the decorative borders that Plimpton did when he was an apprentice there. As a result he went to a printer's school sponsored by the YMCA, later working half days and studying the rest of the time. A series of illustrations he did for Eugene Sue's (Wandering Jew) showed so much talent that his instructor showed them to Mrs. Beach.

At the time she was president of the Hartford Art Society, now the Hartford
Art School, the University of Hartford. She was impressed and went to her
father for the grant. When he refused it, she obtained a scholarship to the
art school for the young artist. When Orr was told the good news he dashed home to tell his parents. His mother, was delighted, his father furious.

'He took his hat and coat,' Orr recalled, 'and we marched impressively to the
beautiful home of Mrs. Beach on Woodland Street (Hartford CT).

'Am I to understand that my son is about to become an artist- long haired,
absent minded, with dandruff on his collar?' His father demanded of Mrs.
Beach. 'I shall always remember, Mrs. Beach's reply,"'Orr said. 'The gracious, handsome lady said, " I don't think Louis' hair will grow very
long.'

'I was enrolled in the school.'

He left Plimptons and with part time work went to the Art School. Later Mrs.
Beach and a few other philanthropic people gave Louis Orr $350 dollars to go
to Lyme for a summer of study. He went to Paris to become the first American artist whose work was acquired by The Louvre. This was in 1919. He was also made an officer of the French Legion of Honor.

Maurice Moulle, chief of the Bureau of Acquisitions for The Louvre, said of
Louis Orr at the time: Slender, with a frank and open countenance, cordial manner, eyes sparkling, a bit of accent, much modesty, unlimited kindness, such is the excellent etcher Louis Orr.

Born in Hartford, CT; he has resided in Paris for many years and it was here
that he married. Pupil of the late Jean Paul Laurens. Louis Orr has
inherited a probity of his master. He is first of all conscientious. Rarely has it been permitted to encounter an etcher with such a beautiful temperament. His needle is spiritual, brilliant in supply. " He is an idealist who sees, feels and interprets his subject poetically.

A remarkable draftsman, he knows how to ally the reality with the (fantasie)
he creates when necessary and he has taken a pre ponderant place among the masters of original black and white etchings. It is difficult to class the technique of Lois Orr. He is, above all, himself, but it is permitted to say that he continues, notably, the traditions of the American School, and that he recalls the charm of Whistler and the brilliant qualities of John Sargent.
La France can but congratulate herself that it extended its hospitality to
Louis Orr.

Orr spent a great part of his life in France but in 1940 returned to America
to do a series of 50 plates on landscapes, historical sights, plantations
houses and harbors in North Carolina. In 1950 he returned to Hartford (CT),
and again Mrs. Beach assisted him. This time she gave him a studio in her
elegant garage which had been converted from a stable. A few years later
after Dr. Beach's death, she invited him to reside in her home. One of the
most elegant homes in the area with a staff of servants to help tend to his
needs.

Patrons of the arts of the caliber of Mrs. Beach are not common today. Louis
Orr was fortunate to have crossed her path.