BIOGRAPHY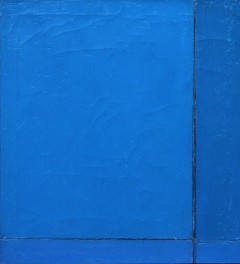 LUDWIG SANDER
(1906-1975)
The son of a musician, Ludwig Sander was exposed to art as a youngster through visits to the Metropolitan Museum and reproductions of Art Nouveau and the Jugendstil in the Manchester Guardian and in German magazines to which his parents subscribed. Having studied architecture and architectural drawing in high school, he entered New York University in 1924, but left two years later to become a painter. In 1927 he took a four-month trip to Europe, returning to New York for independent study with Alexander Archipenko before entering the Art Students League in 1928 where he studied until 1930 with George Elmer Brown, Edward McCarten, Cecil Chichester and Boardman Robinson. Sander also attended the League's summer school in Woodstock, New York, where he met Ernest Thurn, who with Vaclav Vytlacil previously studied with Hans Hoffman in Munich.
Sander did not study with Vytlacil at the League because in his mid-twenties he felt "so damn cocky [that] there's nobody going to teach you anything, but it's nice to know them." Nonetheless, Vytlacil encouraged him to study with Hoffman in Munich in 1931-32. Hoffman influenced Sander to break away from ideas he had acquired about drawing from the figure and the landscape. During his time in Europe, Sander sublet Vytlacil's Paris studio when he helped run Hoffman's summer class in Capri. After returning to New York from Europe in 1932, Sander began painting in a referential abstract style different from his later and more widely known geometric work. He joined the American Abstract Artists established in New York in 1936 as a forum for the discussion and debate of abstract art and to provide exhibition opportunities when few other possibilities existed.
During World War II he enlisted in the United States Army in 1943 working in the German Intelligence Section in Europe, achieving the rank of Staff Sergeant. After the war he re-established himself in New York, initially reviewing art books for The Saturday Review of Literature. In 1949 he co-founded The Club, an association and discussion group for artists in New York whose sixteen members included Willem de Kooning, Franz Kline, Al Reinhardt, Conrad Marca Reilli and Jack Tworkov. Among its several non-artist members was Leo Castelli, whose New York gallery showcased cutting Contemporary art for five decades beginning in 1957. In 1951 Castelli hung the now-famous Ninth Street Show in which Sander participated, the first public presentation of the group of abstract artists that soon became known as the New York School. Sander also belonged to the 10th Street Artists Group, a loose confederation of abstract artists based in New York.
Sander, who earned his B.A. degree from New York University in 1952, admired the teaching talent of his colleague, Vaclav Vytlacil, whom he considered "a born teacher [who] will always be a teacher." Vytlacil, who from 1951 to 1953 taught summer courses at the Colorado Springs Fine Arts Center, encouraged its director-abstractionist Emerson Woelffer to engage Sander for the 1952 and 1953 summer courses, as previously he taught periodically at the Art Students League and would later do so at Bard College (1956-58). Sander's work from the early 1950s, such as Untitled Blue Abstract (1952), documents his maturation as an abstract painter pursuing his own aesthetic, a hybrid of what became known as "Color Field" painting. Stylistically he is located between the hard-edge painters and their counterparts engaged in post-painterly abstraction.
In 1968 Sander received a grant from the National Council on the Arts and a John Simon Guggenheim Foundation Fellowship, and in 1971 he was elected a member of the National Institute of Arts and Letters
Solo Exhibitions: Hacker Gallery, New York (1952); Hendler Gallery, Philadelphia (1954); Leo Castelli Gallery, New York (1959, 1961); Tanager Gallery, New York (1959); James David Gallery, Miami, Florida (1960, 1967); Kootz Gallery, New York (1962, 1964-65); A.M. Sachs Gallery, New York (1967, 1969); Gimpel and Hanover Gallery, Zurich, Switzerland (1969); Lawrence Rubin Gallery, New York (1970, 1972); Waddington Gallery, London, England (1972); Knoedler Gallery, New York (1974); Berenson Gallery, Bay Harbor Island, Miami, Florida (1975); M. Knoedler and Company, New York (1977, 1979-80, 1983-84); Rosa Esman Gallery, New York (1988-89); ACA Galleries, New York (1992); ACA Galleries, New York (1992).
Group Exhibitions: Leo Castelli Gallery, New York (1959, with Jasper Johns, Cy Twombly and Norman Bluhm); "Abstract Expressionists," Solomon R. Guggenheim Museum, New York (1961); Venice Biennale (1964); "Post-Painterly Abstraction," Los Angeles County Museum (1964); "Responsive Eye," Museum of Modern Art, New York; Corcoran Biennials, Washington, DC (1967, 1975; "Neue-Kunst, U.S.A.," Modern Art Museum, Munich, Germany (1968); "Plus by Minus, Today's Half Century," Albright-Knox Gallery, Buffalo, New York (1968); "Salon des Realities Novelles," Paris, France (1968); "A Contemporary Selection 1968," Dayton Art Institute, Ohio (1968); "Form of Color," Toledo Museum of Art, Ohio (1970); "Whitney Biennial," Whitney Museum of American Art, New York (1973); "Two Decades of American Painting," Solomon R. Guggenheim Museum, New York (1973); "Less is More: The Influence of the Bauhaus on American Art," Lowe Art Museum, University of Miami, Florida (1974); and "17 Abstract Artists of East Hampton: The Pollock Years, 1946-56," Parrish Art Museum, Southampton, New York (1980); "Geometric Forms in Abstraction," American Contemporary Art Gallery, Munich, Germany (2001); "Painting Exposition: 1958-1963," Blanton Museum of Art, Austin, Texas (2003); "Geometric Abstraction and Color Function: Two Generations," D. Wigmore Fine Art, New York (2006); "Raymond Hendler and Artists from His 'Avant Garde' Circle," Katharina Rich Perlow Gallery, New York (2008); "Abstract Ensemble," ACA Galleries, New York (2009).
Museum Collections: Metropolitan Museum of Art, Whitney Museum of American Art, and the Solomon R. Guggenheim Museum, all in New York City; Albright-Knox Art Gallery, Buffalo, New York; Aldrich Museum of Contemporary Art, Ridgefield, Connecticut; Museum of Fine Arts, Boston; M.I.T. Museum, Cambridge, Massachusetts; Rose Art Museum Brandeis University, Waltham, Massachusetts; James A. Michener Foundation, Allentown, Pennsylvania; Corcoran Gallery of Art (now, National Gallery of Art), Hirshhorn Museum and Sculpture Garden, Washington, DC; Baltimore Museum of Art, Maryland; Art Institute of Chicago; Walker Art Center, Minneapolis, Minnesota; Art Institute of Chicago; Modern Art Museum of Fort Worth, Texas; James A. Michener Foundation, University of Texas, Austin; and the San Francisco Museum of Modern Art in California.
(From the MoMA website)