BIOGRAPHY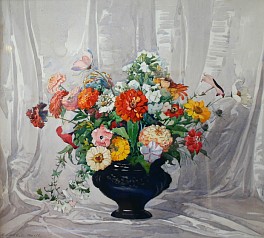 NELLIE LITTLEHALE MURPHY
(1867-1941)
Born in Stockton, California, Nelly Murphy was a painter of decorative floral still lifes and landscapes and an illustrator of children's literature. Murphy grew up in California, later settled in Lexington, Massachusetts and became active in the Boston area. She studied at the Boston Museum of Fine Arts and with Joseph DeCamp and C. Howard Walker at the MFA School from 1885-87. In 1893 she married Herman Daniel Umbstaetter, an editor, publisher, and short story writer. After his death in 1913, she became the second wife of the painter Hermann Dudley Murphy, who had courted Nelly when they were students in Boston.

Early in her career she illustrated several children's stories and poems. This whimsical and fanciful style is evident in her work even as she turned to landscape and flower painting. Her delicately painted landscapes reflect her travels to Puerto Rico, Mexico, England, and California. Murphy is best known for her meticulous still lifes of flowers.

Murphy was awarded the Purchase prize for watercolor from the Boston Art Club in 1929. Her works are found in the Museum of Fine Arts, Boston, Fine Arts Museums of San Francisco, Stockton Museum of Arts, and the New Britain Museum of American Art. She was a member of the American Watercolor Society, Copley Society and the Boston Guild of Artists.
-- AskArt.com