BIOGRAPHY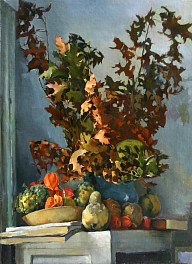 PRISCILLA WARREN ROBERTS
(1916 - 2001)
Born in Glen Ridge, N.J., on June 13, 1916, Priscilla Warren Roberts was a daughter of the late Charles Asaph and Mary Beth Roberts. Encouraged by her mother, she decreed at an early age that she was going to be an artist. She studied at Radcliffe College for a year before moving to the Art Students League and National Academy of Design, from 1939 to 1943. She also studied at Yale University's School of Art.

After struggling to find her way as a commercial artist, Miss Roberts soon began creating in her style of exacting realism, emphasizing still lifes with no human figures that took many months to complete--a schedule and style far different from that of a commercial artist. In 1946, she began a long association with the Grand Central Art Galleries in New York City and was grateful for its support of her work and other conservative American artists. Her first one-woman art show was held there in 1961.

"I am an arch-realist in my paintings, and I love super-realism. I had acidosis when I was little and my mother started a scrapbook for me of "Good Housekeeping" advertisements. I suppose that's when it started," she told "The Bulletin" in a 1978 interview.

Since leaving school, only two of her paintings were of life. Miss Roberts was strongly influenced by the Dutch Renaissance painter Johannes Vermeer (1632-1675) and her style was billed by art professionals as Magic Realism. She preferred to think of herself as a "painter," not an "artist," a terms she thought pretentious. Citing the words of a teacher, she called drawing "the finest spiritual exercise." She approached her work with meticulousness and precision, often finding her subjects at antiques shops or thrift stores.

Often, a single painting would occupy her for months. She once took 14 months on one painting, and even a small still life could take two or three months to complete. Merely organizing the objects she would capture on canvas would take several months alone. Her aim, she said, was to capture an image with near-photographic properties, "exactly and completely."

Among the museums where her work is represented in permanent collections are the Metropolitan Museum of Art, Cincinnati Art institute and the National Museum of American Art in Washington, D.C. Much of her work is held privately by collectors who snatched up her paintings as soon as she would complete them.
Source: Obituary published on August 16, 2001 in "The Wilton (Connecticut) Bulletin"