BIOGRAPHY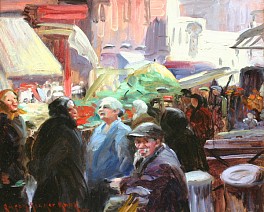 SUSAN RICKER KNOX
(1874-1959)

Born in Portsmouth, Maine in 1874, Susan Ricker Knox graduated from Portsmouth High School in 1892 and by 1896 entered the art program at Drexel Institute in Philadelphia. That was followed by the Cooper Union Art School in New York City. After a tour of the art galleries of Europe, she moved to Boston and made a small reputation for her pen and ink "silhouettes."

By 1910 Knox established a studio in NYC, moving to one in the National Arts Club in 1913, and painting portraits. She is largely known for portraits, especially of children, "the most difficult types with which a painter has to deal" as one writer noted.

In the 1920s she did a famous series of 32 paintings of European immigrants at Ellis Island. By 1928 she had given up her New York studio in favor of spending winters in Arizona and summers in York, ME. In York Harbor, she had a studio cottage and sold her paintings at the nearby Marshall House.

A member of the Piscataqua Sketch Club (later the Piscataqua Art Club) a newspaper noted in 1925, it was here "that Miss Knox first began her career as an artist and is now well known among the woman painters of America."

Until the mid -1930s she also traveled widely in the Southwest, painting during the winters in Arizona and New Mexico. Subjects included the Hopi, Apache, and Pima Indians. Her Native American paintings stirred much interest including a work titled In Salt River Valley, which depicted Pima Indians on their reservation in Arizona. It was exhibited in 1932 at the National Association of Women Painters and Sculptors. She also did a number of woodblock prints of southwestern subjects.

In 1936, Knox began annual trips to Mexico and moved from her summer studio in York to one in Ogunquit, Maine. She showed watercolors with the New Hampshire Art Association in 1941 and 1949 and an oil of a Taxco Youth at the Art Association's Currier exhibition in 1952. Probably through this association she became friends with Omer Lassonde, and his wife, sending them two paintings of the Ogunquit beach as a gift.


Written and submitted by Richard Candee, Professor Emeritus, Boston University and past President of the Portsmouth Historical Society

Sources:
Deborah Child & Jane D. Kaufman, "Susan Ricker Knox (1874-1959), American Art Review vol. 10, no. 4 (August 1998) 134-139

Deborah Child & Jane D. Kaufman, "Susan Ricker Knox. Portsmouth and Beyond" Portsmouth Athenaeum, June - Sept. 1998, exhibition catalog.

Exhibition catalogs of the NH Art Association Annual Exhibitions, 1941 - 1952

"Artist Well Known Here", Portsmouth [NH] Herald , Nov. 7, 1925.

Her gift of two seaside paintings and an accompanying letter to Omer T. Lassonde, remain with one of his heirs. Both regularly exhibited at the Brick Store Museum and the Ogunquit Art Association in the 1940s - 50s.