BIOGRAPHY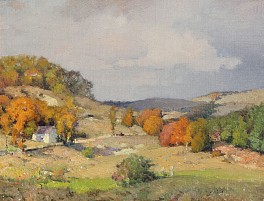 1871-1953
WILLIAM JURIAN KAULA
(1871-1953)
William Jurian Kaula's reputation as a painter grew through his ability to express the New England landscape by distilling the details while heightening the experience of natural effects. Kaula was both a watercolorist and oil painter who achieved ghostly delicacy while maintaining a strong sense of substance in a painting.
Born in Boston, he spent most of his life there and summered in New Ipswich, New Hampshire. His artistic training began at the Mass Normal Art School and included study at the Cowles Art School where he also was an instructor in watercolor painting. He also attended the Academie Julian in Paris.
In Boston, Tarbell was among his most admired mentors and the two painted side by side in New Hampshire. Kaula is among the most talented students of landscape painting under Tarbell and was known as a "Tarbellite." Even though he rarely (if ever) chose subjects typically associated with the Boston School, neither interiors or formally dressed figures, he is strongly associated with the group and maintained a position of esteem in the Boston art circles. Kaula exhibited extensively winning a medal at the Pan-Pacific Exposition of 1915. He met his wife/artist Lee Lufkin Kaula in Crecy, France in 1894. They married in 1902 and maintained a home and studio in the Fenway Studios.

Kaula was a member of the Boston Art Club; New York Water Color Club; Paris Art Association; Boston Water Color Club; Boston Guild of Artists; President, Boston SWCP and the American Water Color Society, but he decided early in his career not to participate in too many groups because it took too much time from painting en plein aire.
Kaula's plein aire landscapes prior to 1925 are tightly executed. During the 1930s he developed a style that was more expressionistic, with a greater economy of brushstroke with compositions depicting large expansive skies rolling over New Hampshire hillsides.
Before he died, the Copley Society gave Kaula a one-man show. His work is represented in the permanent collection of the Museum of Fine Arts, Boston.
A monumental work by Kaula, Summer Clouds is full of air and light and an idealism to create a wonderfully successful landscape. The strong verticality adds to its presence creating an even greater sense of expanse. The lively brushwork creates remarkable atmospheric effects making this among his very best landscapes.