BIOGRAPHY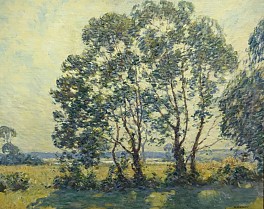 WILLIAM CHADWICK
(1879-1962)
Born in England, William Chadwick moved with his parents to Holyoke, Massachusetts, in 1882. After graduating from high school, he moved to New York City and enrolled in the Art Student's League, studying with John H. Twachtman, George Bridgman, and Joseph DeCamp. In 1901, he traveled to Europe, and although little is known about Chadwick's trip, one can assume that he pursued art study while he was abroad.
The following year, Chadwick made his first visit to Old Lyme, Connecticut, where he became affiliated with the Impressionist art colony centered at Florence Griswold's home. For the rest of the artist's career, he returned to the picturesque town, eventually purchasing a home there in 1915. At Old Lyme, Chadwick absorbed the tenets of Impressionism, and his landscapes exhibit that style's high-keyed palette and broken brushstroke, although Chadwick's Impressionism is marked for its subtler handling. At the same time, he continued to paint figurative works in the conservative style of his teacher, DeCamp.
Chadwick held teaching positions at the Teachers College of Columbia University and the City College of New York.
Memberships
National Academy of Design, New York, NY
Salmagundi Club, New York, NY
Lyme Art Association, Lyme, CT