BIOGRAPHY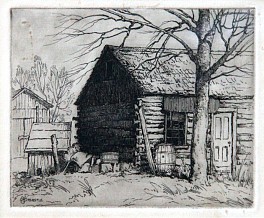 BERTRAM G. BRUESTLE
(1906-1968)
Bertram spent most of his childhood in Lyme, Connecticut during the warmer months of the year and New York City during the colder months. In Lyme, he developed an intense love for nature and throughout his life, Bert photographed, filmed, collected and catalogued a wide variety of plants and animals. In the city, much of his time was divided between visiting the Museum of Natural History and visiting a variety of art-related events, both of which influenced his life's work. Bert was very close to his father, George M. Bruestle, one of the most beloved members of the Lyme Art Colony with many friendships and affiliations in New York. This offered Bert the distinct advantage of learning from all of his father's painter friends. Many evenings were spent "talking shop" in Bert's words, as his father and his father's friends shared many aspects of painting with Bert that he might not otherwise have been exposed to. Bertram spent a lot of time with Robert Vonnoh, one of George's closest friends, doing chores around his house and gardens at an early age. Edward Rook, another close friend of his father's also took an interest in Bert as did Louis Paul Dessar, George Bogert and Emil Carlsen.
There was one point in time, during the early 1920s, when Bert's painting most closely resembled that of his father's. Yet according to Roger Dennis who became very friendly with Bert later in life, Bertram turned to painting wildlife in an effort to distance himself from painting the Lyme landscapes for which his father was so well known. Yet even some of his wildlife pictures were complimented with scenes reminiscent of Lyme in the background.
Bert moved to Maryland in the late 1920s where he lectured and wrote on bird life, representing the State Game Department of Maryland, the State Board of Education and the National Association of Audubon Societies. On June 5, 1930, he married Mildred Buckey from Frederick, Maryland. Bert also worked at the Museum of Natural History in New York and illustrated medical journals for the department of neuroanatomy at the Yale University School of Medicine in New Haven.
After his father passed away in 1939, Bertram took over his father's house and studio in Lyme. He became very active in the Lyme Art Association, serving as Secretary and then President for three years. Although he never received the national recognition or stature that his father did as an artist, Bert carried on the tradition of painting Lyme landscapes well into the 1960s, developing his own distinctive style. The combination of his love for art and nature resulted in a special blend of beauty that carries through his work.