BIOGRAPHY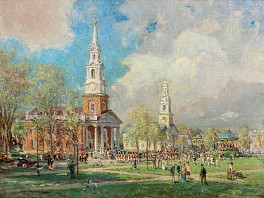 COLIN CAMPBELL COOPER
(1856 – 1937)
Colin Campbell Cooper was an internationally successful painter, known for his impressionistic street scenes, landscapes, and architectural subjects. Born in Philadelphia in 1856, he studied under Thomas Eakins at the Pennsylvania Academy of the Fine Arts.
Cooper made the first of many trips to Europe in 1885. he studied at the Academie Julien and the Ecole Delecluse in Paris. Traveling to Belgium, Holland and France, he painted picturesque scenes of European architectural treasures. These paintings gained him worldwide recognition, and he continued to travel in search of unusual landscape and architectural subjects throughout his career.
After spending time in Philadelphia and abroad, Cooper settled in California in 1921, and became Dean of Painting at the Santa Barbara School for the Arts. The artist died in 1937.
Cooper was a member of the American Federation of Arts; the American Water Color Society; the National Academy of Design; the New York National Arts Club; the New York Society of Painters; the New York Water Color Club; the Pennsylvania Academy of the Fine Arts; the Philadelphia Art Club; and the Philadelphia Water Color Club.
His works are in the collections of the Art Club of Philadelphia, the Boston Art Club, the Cincinnati Art Museum, the Dallas Art Association, the Lotos Club in New York City, the Pennsylvania Academy of the Fine Arts, the Reading Museum, and the St. Louis Museum of Fine Arts.