BIOGRAPHY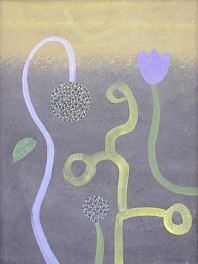 1905-1983
DORIS EMRICK LEE
(1905–1983)
Doris Lee was a Regionalist painter who was active from the 1930s through the 1960s. She was born in Illinois, and attended Rockford College. After graduating in 1927, she traveled to Europe to study painting with Andre Lhote (French, 1885–1962). Lee returned to the United States to continue her studies at the Art Institute of Kansas City, where she worked under Ernest Lawson (1873–1939), and then moved on to California School of Fine Arts.

In 1935, she won the Logan Prize from the Chicago Art Institute for her Thanksgiving Dinner, a painting which depicts a highly detailed and whimsical scene of women and children in the kitchen preparing dinner. Lee eventually moved to New York and taught at the Art Students League. She also had a studio in Woodstock and exhibited at the Woodstock Gallery. While in New York City, Lee worked in a studio alongside Yasuo Kuniyoshi (American/Japanese, 1893–1953) and Emil Ganso (American, 1895–1941).

Lee was commissioned by the United States Department of the Treasury to paint murals for the General Post Office in Washington D.C., and she was also commissioned by the Works Progress Administration to paint a mural on a post office in Summerville, GA. In the 1940s, she was commissioned by Life magazine to illustrate several travel articles in Mexico, Morocco, and Cuba. Seeing indigenous and Folk Art works influenced her shift in style to more reduced, two dimensional forms.

During the 1960s, Lee began showing signs of Alzheimer's disease, but she kept making paintings. Her works can be found in the collections of the Smithsonian American Art Museum, the Metropolitan Museum of Art, the Whitney Museum of American Art, The Phillips Collection, the National Museum of Women in the Arts, and the Cleveland Museum of Art.