BIOGRAPHY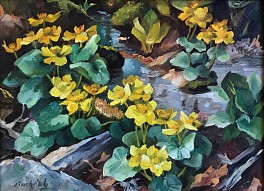 FREDERICK H. BUCKHOLTZ
(1901-1983)
Frederick H. Buchholz was born in 1901 in Springfield, Massachusetts. His work reflected the nation's urban scene during the Great Depression, with emphasis on American industry, entertainment and genre scene paintings. Many of his works feature strong colors and angular industrial scenes.

Buchholz's early life was like that of so many artists in the early 20th century: as funds ran out, he was forced to restrict his painting and work other jobs in order to survive after the crash of the stock market in 1929. His early days could be described as somewhat bohemian.

In the early 20's he and his wife Elsie Miller who was also an artist who went by the gender neutral name ede-else, opened a tea room, known as "The Tart", in New York, which became the "in place" for the intellectual cognoscente to meet and share their opinions on matters relevant to the day. In addition, the Buchholz's began to publish "The Quill", a periodical that provided the New York art community with the current art and literary news, as well as directory schedules of upcoming art shows and exhibitions. Their New York years saw both Buchholz's elected for the Who's Who in American Art.

Starting in the 1950's, the Buchholz's divided their time between New York City and Lyme, Connecticut. With the outbreak of World War II, Fredrick worked in an aircraft factory, which greatly influenced the subject matter of his paintings. These dynamic paintings continued to reflect his interpretation of industrial America.

After WWII his paintings began to reflect the landscape of Old Lyme. He continued to live a relatively quiet life in Lyme, painting and exhibiting in one-man and group shows for the rest of his life. He died in Lyme in 1983.