BIOGRAPHY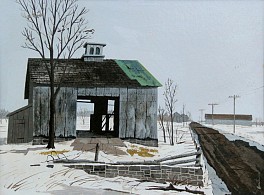 JOHN AUSTIN
(1918-2000)
Born in North Carolina, with time in New York, New Jersey and Connecticut, John Austin settled permanently in Nantucket. As a young man he studied at the Art Students' League in New York under Reginald Marsh and was mentored by Edward Hopper. Austin made a living as a commercial artist designing floats for the annual Macy's Thanksgiving Day Parades. During WWII as a serviceman, he produced training manuals for the Army. During his tour, he was constantly compiling sketchbooks recording European cities and the surrounding countryside.
After World War II, Austin returned to the Art Students League to continue his training. There he met his wife, Emily. By the early 1960's, Austin had committed himself to the life of a professional artist. John worked in egg tempera and chose his compositions from close subjects that meant the most to him: the shore, barns, and cottages of Cape Cod, Maine, New Hampshire and Nantucket.
John Austin was a keen draftsman, preferring to sketch on site. Whether Chicken Box or the Pence School, or pilot houses and cranberry harvests, John Austin's paintings capture the New England culture. House portraits and commissioned works were his specialty, as Austin thoroughly relished the social exchange with his clients and collectors. Commemorative ships portraits, presented by the US Nantucket Coast Guard to retiring officers, earned Austin an honorary post in the Guard.
Among his many collectors was Jacqueline Kennedy Onassis, as well Mrs. Paul Mellon and Joyce & Seward Johnson. In 1996, Sotheby's sold two Austin paintings from the estate of Mrs. Onassis – a Brant Point close-up and a Tuckernuck landscape – for $29, 900 and $26,450 respectively.