PRESS RELEASE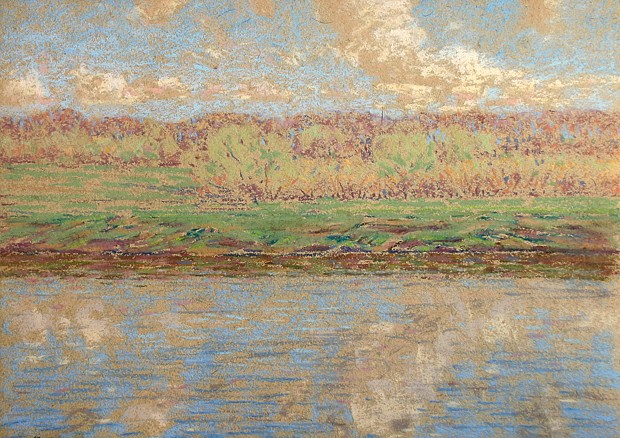 Line in Lyricism - Pastels by Henry Cooke White
Jun 26 – Aug 7, 2010
The Cooley Gallery Proudly Announces:
"Lines in Lyricism,
Pastels by Henry Cooke White"
An exhibition and sale now through April 23rd
Old Lyme, CONNECTICUT – Lines of Lyricism , Pastels by Henry Cooke White is currently on view at The Cooley Gallery Saturday, through April 23rd.
Henry Cooke White worked quietly in pastel for 40 years but he was better known as an accomplished painter and writer. He was born into a prosperous Hartford family in 1861, an only child with little academic ambition but an adventurous spirit. At the age of fourteen, on one of his many explorations around Hartford, he met the famous American Tonalist painter Dwight Tryon who would become an influential part of White's professional and personal life. Henry's father engaged Tryon to give White painting lessons. White's talent and encouraged him to continue his artistic study in New York. There White took classes at the Art Students League with Kenyon Cox, William Merritt Chase and another influential pastelist, John Henry Twachtman.
White was married with a three year old son when he arrived in Old Lyme to participate in the art colony. Growing up his family had a farm in Litchfield and often vacationed along the shore in Clinton. White was described as an avid sailor and fisherman, and found the sky and varied topography as endless sources of inspiration. The summer house he built along the shore in Waterford would become a year-round residence and home to four flourishing generations of artists and writers. Nelson H. White, a painter and Henry's youngest grandson quoted his grandfather as saying "I wish I had accomplished in my oil paintings what I did in my pastels."
"These pastels were painted over fifty years ago and they seem just as fresh as they must have been then. It's not hard to picture White at his easel with his pastel box by his side members of the colony on a spring day in Lyme or on Long Island. Most of the work in this intimate little exhibition include a body of water whether it be a stream, the ocean or a rural pond."
[Images at 300dpi or greater available upon request].
Founded in 1981 and located in the heart of historic Old Lyme, the Cooley Gallery specializes in fine American paintings from the 19th, 20th, and 21st centuries, including the Hudson River School, American Impressionism, and select contemporary artists.
Regular gallery hours are Tuesday-Saturday, 10am to 5pm. Please call (860) 434-8807 or visit www.cooleygallery.com for additional information. The Cooley Gallery is located at 25 Lyme Street, Old Lyme, CT 06371.